Welcome to Railei Beach Clubs, Baan Chang

---
As I said on my blurb on the other Railei accommodation at the Beach Club, this is my favorite place on Railei Beach. The problem with writing these descriptions, is the tendency to repeat yourself. If you've read about the other houses here, then apologies for the rehash...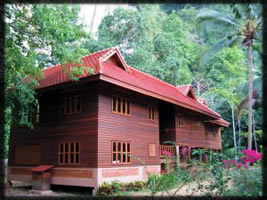 Tucked away on the far side of Railei Beach, nestled against the limestone cliffs, are the 20 acres which make up a private community of houses. What is so special about this place is that the land has been developed and built on sparsely and subtly. It is as close as it is possible to get to the feeling Railei Beach had 15 years ago. This is not a commercial organisation, but is run by the private individuals who own land or houses in this 20 acre sanctuary. Some of these people rent out their luxurious houses some of the time, mostly by word of mouth. Unusually four of these people have let us put their houses on the web site for this year.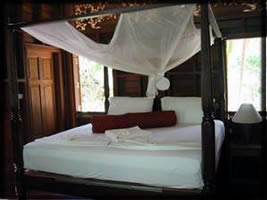 The Baan Chang house Sleeps up to 6 people. It is one of the larger more luxurious houses at the Railei beach club. The house lies on the edge of the stepped jungle and limestone crags of the national park. It is 100 meters from the beach.


The top floor of the house has the master bedroom with an ensuite bathroom. There is also a living room, a bathroom, a kitchen, and a large deck upstairs and dining area. Downstairs there are another two bedrooms and a bathroom.


There is no air conditioning in the house, which may be off putting for some. However the house gets a refreshing ocean breeze, particularly in the evening. If you want to say in secluded luxury, then this really is your best option in Railei.


There are three rates for the house. The high season rate runs from November 1 to April 30, the peak season from December 1 to January 31 and the low season rates run from May 1 to October 31. It is a good idea to make bookings at least one month in advance.
Prices In Thai Baht

---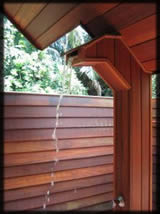 High Season November-April 8,600 Baht per night
Peak Season December-January 10,800 Baht per night
Low Season 2008 May-October 7,700 Baht per night

* The House sleeps 6 people
Extra bed=500 Baht per night
Baby cot=300 Baht per night

You can contact the Rai Lay Beach Club office to book a Thai chef to prepare a meal in your own house. You may also enjoy a Thai massage at your bungalow by contacting the Beach Club office.


Transfers / Transport
Transfers from Krabi airport to Railay Beach are available for 1500 Baht each way for a mini bus which holds up to 8 people. Transfers are also available from Phuket airport to Railay beach for 3500 Baht each way for a mini bus which holds up to 8 people. After 6:00pm there is an extra 200 Baht charge per transfer.
Booking

---
Once we have received your booking we will email you confirmation of the rooms availability.
The email will contain a link to our secure credit card payment gateway. You will then have the choice of paying a deposit on your booking with either a VISA or a MasterCard.
Our credit card gateway is implemented with 128 bit encryption in conjunction with the Bank of Asia.
If after you have paid your booking, you wish to cancel, then you may do so up to a month before arrival with a cancellation fee of 10% of the total accommodation cost.
Peak season bookings require 2 months notice.
High season bookings require 1 months notice.
Low season bookings only require two weeks cancellation notice.
If you do not cancel within the required time limit we may be unable to provide you with a refund.
There are no refunds during high and peak season for customers who chose to check out early, unless 2 months notice is given of a change in booking.
Refunds are provided for natural disasters. If a natural disaster occurs and your cancellation notice has expired, we will provide a refund of 75% of the booking, or reschedule your booking (depending on customer preference). Natural disasters are limited to Tsunamis, earthquakes, volcanoes, comet strikes and the end of the world.
I have read and agree to the above terms and conditions
By Clicking on Submit, you are agreeing to these terms and conditions