Introducing Railay Beach Thailand, paradise found?

---
The coast in the south of Thailand is a luxurious tropical paradise. Towering limestone cliffs shelter incredible beaches, the most beautiful is Railay.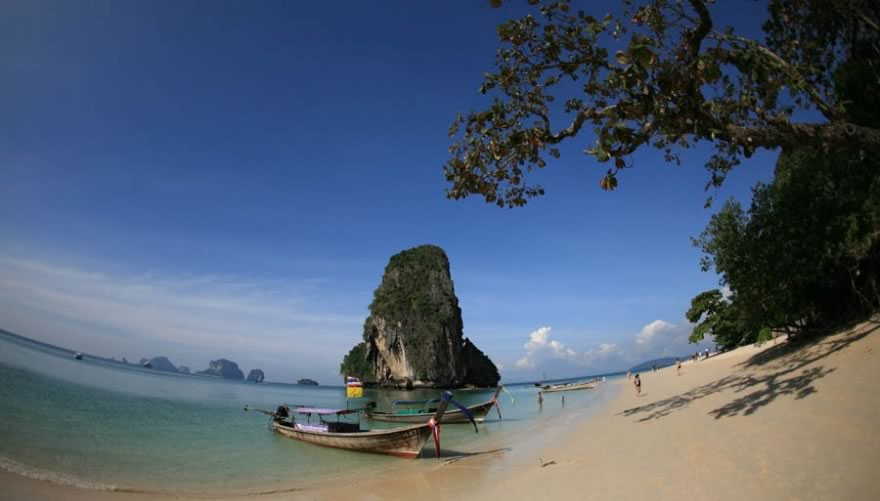 Arriving on Railay beach from Krabi
Isolated from the mainland, the peninsula of Railay is surrounded by the warm Andaman Sea, lush jungle, and twisted rock. It contains enough activities for the most adventurous while allowing those who just want to chill out in paradise the opportunity to do just that.
Bargains Bargains and Bargains!
Numbers are way down, so the beach is pleasantly tranquil. There are some real bargains to be had at the moment. Railay Bay has a great 2 nights one free deal- also they are offering 10% off food and 15% off their excellent spa, exclusive to railay.com customers! Railay Princess's excellent rooms are only 1599 Baht a night. Also check out Diamond Cave and Railay Village- we've not seen prices this low in years. Now would be a great time to go...
Lowest Hotel Prices on the web!

Most sites suck you in by offering low rates, only to add "Taxes" at the last minute. I hate this, so the prices you see on this site are the prices you pay. We guarantee our prices to be lower or the same as any on the net. We will match any real price, or refund the difference. Even if every where is full, we can often find you something.
Railay News
New Photo Gallery
King has been very busy posting hundreds of his best pictures in the new photo gallery, in the process creating an online climbing guide with photos and topos.
Free WifFi at Railay Bay
Railay Bay now has free WiFi. With the mainland power has come fast broadband, so there is potential for a fast connection. We've tested it and its great- the other resorts are following...
For the For the techno savvy, check out our Google Earth file If you have not downloaded Google Earth you are definitely missing out. Better still, have a look at our new Railey Interactive Map.
There's new climbing photos from around Railay you may like.
We have just finished posting info on Ao Laoliang, an island national parks have recently opened for climbing and lazing....
There is a flickr slide show of random pics of railay- check it out and post your own.
Our first attempt at doing Virtual Reality (VR) movies of Railey are here. Have a play!
What to do?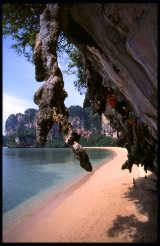 If it's sea kayaking, diving, rock climbing, snorkeling, jungle trekking, cooking, elephant trekking, white water rafting and quad biking or lazing on the beach, you can do it all from here. Our aim is to introduce and get you to participate in the place we love and if you so desire, enable you to book hotels and activities.
These pages have been set up by the various businesses which operate on Railay Beach. Railay is a very small place and with only a limited amount of accommodation and facilities, it can be tricky to get what you want.
Having lived in Railay for the last 20 years, we know all the owners and staff of the hotels. We personally go to each hotel, and make sure that the hotel and your booking are in order. If you do have any problems or questions, we are on hand to help you. If all the main hotels are full, we will do our best to find you something else.
Those who have visited Rai Lay before will probably know where they want to stay, and will find this service invaluable as a means of avoiding the hassle of being unable to get a room in high season.
Using our site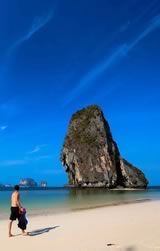 Select the topics which interest you from the menu bar to your left. Booking forms are available under the relevant topics. All booking forms go straight to our office on Railay where they will be processed the same day and sent back.
If you have any questions on any of the material in this site, then please e-mail us at info@railay.com
Hope to see you soon!
railay.com
194/5 Moo 5, Tambol Saithai, Muang, Krabi, 81000, Thailand
Tel: 66 75 662 096
After hours Tel: 66 81 7978 923
Fax: 66 75 662 097


References
Some embarrassing nice things that people have written back to us - getting one of these makes the whole thing seem worth while!
We had such a fantastic time. Thankyou for your help you made it the best honeymoon ever!
Ben Davis - England
It was awesome! Thank you so much for all you help with the trip... I'll be recommending you guys
Adios!
Corey Layton - Nights Announcer & Promotions Pimp - Nova 100, Melbourne
Your suggestion of adding a pickup at the airport was very helpful, he brought us right to the beach where the long-neck boat was waiting. We were prepared to take off our shoes to wade through the surf and brought only small bags. The vista of the kargs rising out of the ocean in the dusk was otherworldly, and the arrival at Railay dream-like. The hotel was expecting us and our room was fine. We especially enjoyed the monkeys and caves nearby. Plenty of choices of restaurants for food, while very low-key and relaxed. Idyllic.
Thanks for your help!
Claire Paul
Thank you Robin and all your staff for excellent service. Everything went perfect and we'll look forward to arrange future trips to Krabi. Now we know, that we can get the best service form you.
Greetings from snowy and frosty Finland,
Pasi Tuominen - Restaurant Manager
Everything was superb. Longing to get back.
Ole and family
I had a great time, thanks! I have recommended your group to several other climbers in our area. Hope to see you again soon.
Richard Day


Registered with the Tourism Association of Thailand (T.A.T.) No. 34/00946