Ao Nang Elephant Trekking and River Camp

---
We've resisted putting up elephant trekking for a while now, but had a change of heart due to popular pressure. The clincher was enjoyment the little ones got out of it. This is a special experience for kids. Riding through the jungle on the back of an elephant is not forgotten quickly.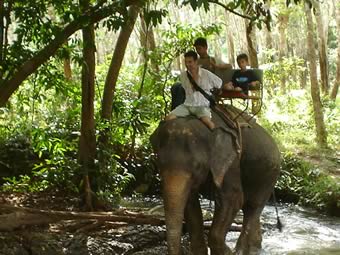 Nosey Parkers elephant camp established in 1999 is a 7km car ride from Ao Nang Beach. The camp is located in a shady forest area with abundant of water for the animals to enjoy all year round. Your elephant trek will take you across the river that runs through the camp and into the forest. While walking through the forest you will see and hear the surrounding wildlife...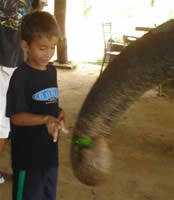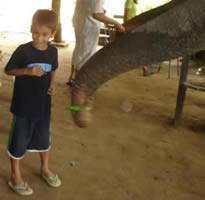 The elephants love children and food...
Nosey parkers is a well run operation and the owner takes good care of each of his elephants. The elephants eat an enormous amount, on average each one eating $500.00 us dollars a month and $500 buys an unbelievable amount of food in Thailand..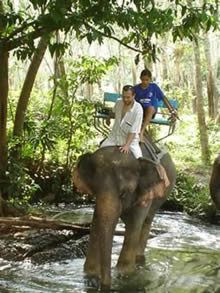 When they are not eating, the elephants are well treated and have a lovely environment to live in. They are well accustomed to people and are very friendly to young children.
If you are in a hurry you can take a 1 hour elephant ride. If you want to make a day of it you can take your time on the half day tour.
Program 1 – Elephant ride
One hour elephant ride
Swim and relax in the beautiful river that runs through the camp
Nature walk
Includes pick up from AoNang
Adults 800 Baht
Children (4-14 years) 400 Baht
Morning rides
9 am, 10 am, 11 am
Afternoon rides
13.00 pm, 14.00 pm, 15.00 pm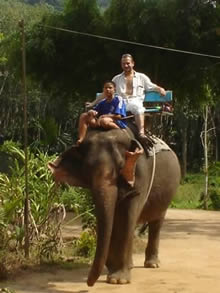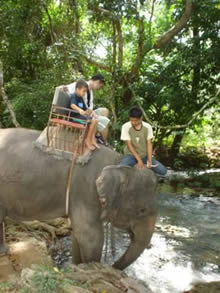 Elephant trekking in the jungle around Ao Nang
Program 2 – Half day tour
Two hour elephant ride
Swim and relax at Tha Pom
Nature walk into the jungle
Thai style lunch (riverside restaurant)
Adults 1,650 Baht
Children (4-12 years) 850 Baht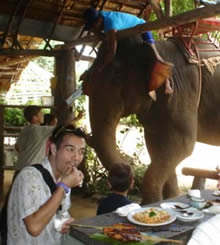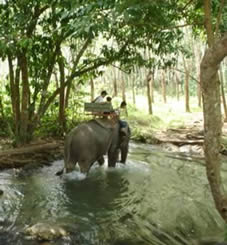 The lunch on the half day tour may end up getting shared with the elephants if your not quick!
I highly recommend both these trips. When ever we have family and friends visiting us here in Krabi its on the list of things to do. Our son Aaron loves the elephants and is a big fan.
Robin, King & Aaron
We went to Nosey Parker and it was Fantastic.
Excellent service, incredible kind and friendly people. It was one of the highlights of our vacation. Sack and Dam and the rest of the crew were amazing. Please pass along our enthusiasm and appreciation.
Thanks!
Claire and Paul
Booking

---
We will pick you up from Ao Nang beach at the arranged time. If you are coming from Railay Beach you will need to get a boat to Ao Nang (it takes about 15 minutes).
Once we have received your booking we will email you confirmation of the availability of your dates.
The email will contain a link to our secure credit card payment gateway from which you have the choice of paying a deposit on your booking with either a VISA or a Master Card.
Our secure credit card gateway is implemented with 128 bit encryption in conjunction with the Bank of Asia.

Cancellation and Rescheduling
You must give at least 1 weeks notice to cancel your booking.
If you do cancel, there is a cancellation fee of 10% of the total cost (that's what VISA charges us)..
If you cancel with less then a weeks notice we may be unable to refund your payment.
If you need to reschedule your booking, please let us know as soon as possible and depending on availability we will do our best to accommodate you.

In addition we are now providing refunds for natural disasters. If a natural disaster occurs and your cancellation notice has expired, we will provide a refund of 75% of the booking, or reschedule your booking (depending on customer preference). Natural disasters are limited to Tsunamis, earthquakes, volcanoes, comet strikes and the end of the world.

By Clicking on Submit, you are agreeing to these terms and conditions