Railay Beach & Krabi, where in the world?

---
Railay Beach also known as Railey beach or even Rai Leh beach, is located in the South of Thailand. Use the zoom buttons to get a better idea of where we are in relation to the rest of the world.
You can fly around Railay with our new interactive maps, or try our Google Earth file.

Traveling to Railay Beach :

---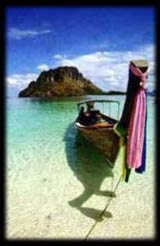 The first step is getting to Thailand. There are direct flights to Bangkok from most major airports in the world. From Bangkok you have to get to Krabi. You can catch a bus, train, or plane.
By Plane...
Planes connect from Bangkok to Phuket every hour. Flying time is about one hour. It is even possible to fly direct to Phuket. From Phuket airport it is a two hour taxi ride to Krabi or Ao Nang.
Krabi airport opened in 2000 and is flying to an ever increasing number of destinations. They is now even an international terminal. There is an ever changing number of combinations which fly internally and internationally to Krabi. Rather than give you lots of quickly outdated time tables, we've provided links to each airline's time table.
We can provide you with transfers on request, but you will find it cheaper, and very easy to arrange this yourself on arrival at the airport. From the airport a taxi costs about 500 Baht to Ao Nang. From Ao Nang it's a 15 minute boat ride at about 60 Baht per person (more if it's dark) to Railey Beach.
Thai Airways fly 5 times daily Bangkok - Krabi - Bangkok. Morning and afternoon flight.
It is now very easy to book online. Make your booking and print out the invoice, which then becomes your ticket. Now that is dam handy! They also tend to get very full.
Asia Air fly 1 time a day Bangkok - Krabi - Bangkok. Starting March 2006 these guys offer the only competition to Thai airways. They have cheap online tickets starting at 399 Baht.
Tiger Airways looks very interesting. They fly Singapore - Krabi - Singapore on the 1-3-5-7 days of the week. They are extremely cheap and book online. This is great as it makes flying into Singapore rather then Bangkok possible, and flying to Singapore can be allot cheaper. Maybe this will break Thai airways strangle hold? The times are not perfect, but did I mention that it's cheap..... Unfortunately I've just heard that they are only operating until March 26th 2006. Maybe they will fly again next high season...
fly12go.com these guys are the latest fliers to Krabi. They also look the cheapest. Haven't tried them yet, but shall do soon.
The following just fly to Phuket, which although inconvenient is doable and cheaper...
Bangkok Airways fly twice daily Samui - Bangkok - Samui. They also fly Bangkok - Phuket. They may restart their Bangkok - Krabi service, so check their site. They do online booking.
Silk Air fly Singapore - Phuket or Singapore - Bangkok. They may start to fly to Krabi again so it's worth checking their site.

Nok Air - Bangkok - Phuket- Now also flying Krabi to Bangkok twice a week.
Destination air - It's a little unclear who these guys are, but it looks like they are a small charter company doing flights around Southern Thailand. They have regular flights from Krabi to Phuket, Pee Pee and onto Koh Lanta. Prices start at 6800 baht. Looks interesting, as they have a seaplanes that could potentialy land anywhere.....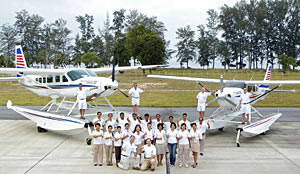 If you are from Sweden then there is Novair These guys charter whole planes and fly at random times directly from Sweden during the high season. Since I can't speak Swedish I have no idea of the details but they have a web site.
Alternatively you can get someone like Special Departure's to take care of the whole thing for you on line.
Krabi Airport to AoNang or Krabi...
You can catch the shuttle bus to AoNang (150 Baht) or Krabi (90 Baht)- The buses are timed to meet the flights.
You can also hire a taxi which will take up to four people to AoNang (600 Baht) or Krabi (350 Baht)
It takes about 40 minutes to drive from the airport to AoNang
Train...
The train from Bangkok runs overnight to Surat Thani. The sleeper is comfortable and relaxing. You then take a connecting air conditioned bus to Krabi. This takes about 2 hours. All together it takes about the same amount of time as the bus, but you get to lie down and actually sleep. For timetables and online train booking check out the Thai railways site.
Bus...
There are numerous buses going direct to Krabi. Buses range from local death traps to ultra luxury air conditioned super cruiser. It typically takes about 15 hours. It's really cheap, but a little masochistic.
The last leg, Krabi Town to Railay, or Ao Na Moa or Ao Nang to Railay...
From Ao Nang Beach it's a quick longtail boat ride to Railay Beach. Boats run all day, and the beautiful boat ride from Ao Nang takes about 15 minutes. It's 60 Baht per person at the moment, randomly more after it gets dark. This is the place to get a boat during high season.
During low season when the weather is rough, you need to get a boat from Ao Na Mao or Krabi. These days most boats go from Ao Na Mao and it's only 15 minutes from there to Railey Beach. Boats from Ao Na Mao now run untill midnight all year around. From Krabi it takes about 45 minutes. Boats are caught from the pier in Krabi, but they are infrequent.
Ferry Timetables- boats to places you want to go...

---
Accurate time tables are hard to come by, if they even exist at all. We've been around collecting what we reckon is the most accurate, and are happy to pass along our findings.... The Ao Nang Princess Ferry is a medium sized island hopper type boat. It probably takes a couple hundred people. Bookings can be made at any local travel agent. If you ask very nicely, you may be able to email Robin and add a ticket to whatever you book through her...
During May to October is monsoon season. Sometimes the seas get quite rough and ferry's are cancelled. They then take you by road. (If you're going to Phi Phi you'll just have to wait...)
| | |
| --- | --- |
| Phuket - Ao Nang 500 baht | Ao Nang - Phi Phi 350 baht |
| Phuket - Phi Phi 500 baht | Ao Nang - Lanta 380 baht |
| | |
| --- | --- |
| From Phuket | Time: Dept – Arrival |
| Phuket to Ao Nang Beach | 8.30 - 10.15am |
| Phuket – (pass Ao Nang) – Railay Beach | 8.30 – 10.45am |
| Phuket – (pass Ao Nang & Railay Beach) - Lanta | 8.30 – 12.45am |
| Package – Day trip to krabi | 8.30 – 17.15pm |
| | |
| From Phuket | |
| Phuket – Phi Phi Island | 8.30 – 9.30am |
| Package – Day trip to Phi Phi Island | 8.30 – 16.00pm |
| | |
| From Ao Nang Beach | |
| Ao Nang – Phi Phi Island | 9.00 – 11.00 am |
| Ao Nang – Lanta Island | 10.30 – 12.45 pm |
| Ao Nang – Phuket | 15.30 – 17.15pm |
| Package – Day trip to Phi Phi Island | 9.00 – 17.00pm |
| | |
| Package – one day tour 4 island | 10.00 – 15.30pm |
| | |
| From Railay Beach | |
| Railay Beach – Phi Phi Island | 9.15 – 11.00am |
| Railay Beach - Lanta | 10.45 – 12.45pm |
| Railay Beach – Phuket | 15.15 – 17.15pm |
| | |
| From Phi Phi Island | |
| Phi Phi Island – Phuket | 14.30 – 16.00pm |
| Phi Phi Island – Railay Beach | 15.30 – 16.45pm |
| Phi Phi Island – Ao Nang | 15.30 – 17.00pm |
| | |
| From Lanta | |
| Lanta – Railay Beach | 13.30 – 15.15pm |
| Lanta – Ao Nang Beach | 13.30 – 15.30pm |
| Lanta – (pass Railay Beach, Ao Nang) - Phuket | 13.30 – 17.15pm |