Soley Aid
---
This page is now devoted entirely to giving the friends of Soley up to date information on his progress. It also provides an easy way to contribute directly to his substantial medical bills.
Soley Onbut has lived on Phi Phi Island for the past 5 years. He has been a climbing instructor for the past 13 years. His climbing shop (Carlitos Rockshop) had been in operation for 1 year when the tsunami hit. Most of you will know his smile from Railay where he has worked and lived on and off for the last 15 years.
July 26th
Today seven month after the tsunami - is Soleys 30th birthday! I spoke to him on the phone today and he was in real good health. He can walk without limping, he is training most every day and he has started to climb a little. He was very happy in the phone and that made me very glad. Just to let you all know that things are fine with him and that your help made the big difference. The next step now is to wait and see what he can do to support himself in the future. May be it will be noce for him to start climbing again.
Thank you all again I I love to hear from you sometime.
Best regards from Eva Hansen and family from Sweden.
Donations/ April
Thanks to everyone that has helped out by donating some cash to Soley and his medical bills. You have all made an amazing difference, and have literally enabled Soley to get the help he needs to walk again, and restart his life. We have now collected enough money to pay for all Soleys medical bills, with a little left over to help with his living expenses as he gets his life back together. Shamick has promised at sometime to publish a list of all the doners, just know you are very appreciated!
If you do feel like you need to give Soley money, then the way to do it is by bank transfer. The fees for this method will vary according to your bank, but will typically be about $30! We have heard that the Bank of America is only $15. The way to do this is to go into your bank and give them the following details:
Address: Siam Commercial Bank Public Company Limited
169 U-Trakit Rd. T. Paknam Muang, Krabi, Thailand, 81000
Bank International Swift Code: SICOTHBK
Account Number: 572-2-28400-3
Name of recipient: Przemko Byszewski
Eva has asked me to make sure we thank these people for their help.
Silva Filmer, Annika, Johan Cedergren, Fam. Hennerfors, Fogdo Lax.
From Enkoping Lelle and Pernilla
From Grisslehamn: Bengt Hamberg. Christina Bergmark. Kent, Margareta, Goran Malmberg.Eva, Lennert, Paula Hansen. Gunilla, Ulf Alner. Fredrik, Christina, Bernt Danner. Sven Erik, Inglis Manstrom.Malin Andersson. Mats Ohlsson. Siv Grahs. Lennert Lundvik.Martin Thor. Agneta, Sven Karlsson.Karin Elvefors.Fam. Lalér Hermansson.Annsofi, Jonas Johnson.Fam Lennerman. Hallstaviks Fisk, Bo Lindell.
From otherperts of Sweden: Tompa(and the pubvisitors) Helsingborg. Bewator Co.Stockholm. Siv, Kurt Torelli. Gudrun Knudtzon, Anders Lindahl. Fam. Hising. Fam Torbjorn Andersson Halmstad .Maciej. Dennis Arvidsson, Monica Pedersen. Magnus Lundblad. Malin from Norrtalje (hairdresser)
From Germany: Fam. Kockler, Anna Dausend, Patrick Hinsberger. Lucia Pesch. Georgi. Christina Caspari.
From Norway: Linda Sorensen.
From Australia: Niall Doherty.
Thanks, Best regards from Eva and Soley!
Message from Veronik
Soley has shown incredible feats of courage and tenacity since the tsunami. The first day I met him with a physio named Bryce he was in his hospital bed and there was some question as to whether he would ever be able to walk again. With a pelvis and hip injury combined with the dark memory of what happened to him and others on Kho PhiPhi, this presented a situation of many unknowns. Since the moment we met him, Soley put his full trust in us and everyday he slowly achieved
better mobility, strength and overcame his fears. I rarely have met someone as dedicated as he was to his own recovery. Working out in the pool, and doing his bed exersises twice a day. And in the last month visiting the gym for further training once a day.
Nothing appeared impossible, as I'm sure was what Soley was thinking when I demonstrated certain exercises that he could barely attempt due to his muscles weakness. I would come back to visit
three days later and he would have gained on those particular movements about 30 degrees!!
The 21st of March, Soley visited his doctor in Phuket for a checkup and new x-rays. The doctor informed Soley that the bone growth in his hip and pelvis were good, and that the bone structures
were healed. It was now deemed time for him to discontiue the use of his walker and pelvis support, starting a new chapter in his recovery.
The following day was to be my last day before I left Thailand, and it turned out to be another momentous day in Soley's continuing recovery. Fresh off the news from his doctor in Phuket, Soley
was about to take his first unaided steps for the second time in his life. Coming down the hallway on crutches, he stopped outside his doorway and we said our hellos. He knew from my look that I was going to try and take his crutches from him. After tightening his pelvis belt, he reluctantly
handed over one crutch and I turned the other into a temporary cane. We walked slowly down the hallway practising this new movement. As in all his previous challenges, Soley quickly mastered
this, as we then stopped in front of a set of short stairs. At this moment part of the hotel staff, my boyfriend and Shamick with his eternal videotaping were watching with looks of joy as he made his first steps up the stairway.
Soley thought then that this day of 'work' was over but it was just the beginning. Now in his room he was ready for a nap it appeared as i told him to sit up and get ready to walk without the crutch. The
look he gave me at that moment was a combination of bewilderment and fear. He slowly stood up off balance from lack of practice. Taking his time and mentally preparing for this new challenge he slowly weighted his left foot and tested the waters so to speak. After a few slow jerky steps, he realized that there was no pain and it would only take practice to gain a smooth stroll. After much smiling and videotaping, Soley was taking fairly smooth steps around the motel room!
I left that day with a happy heart, knowing that Soley still a lot of work to do to get back to climbing but it appeared that he was definintely on the right path.
Thanks again Veronik!
March 24th 2005
Today was a great day! 87 days after the tsunami, Soley took his first steps without any help. He was able to bear his full weight, and was able to go up and down the stairs without assistance. It's been tough going to get here, and we still have a ways to go, but today we feel we have passed a majour milestone. This goes to show what everybodys donations have managed to acomplish, I dread to think how diffrent the outcome might have been without your generosity. Once again thank you all for your coming contributions.... Just have to say again what a difference this has made to Soley. After his steps he said "I will never forget for the rest of my life this moment".....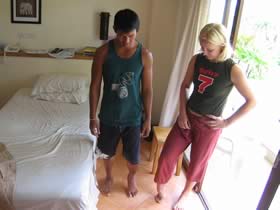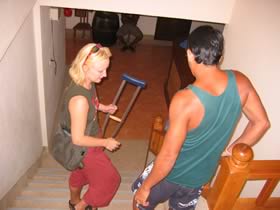 Today Veronik leaves for New Zeland and Soley is going to be without a physiotherapist. Thankyou so much to Bryce and Veronik for all their hard work. You have made an incredible difference. It is sad to see Veronik leave today, she has been an enormous help, but what a fantastic vindification of her efforts today was. A better leaving present then Soleys effort today would be hard to imagine. Thanks again Veronik! Love and a hug from all of Soleys friends!!!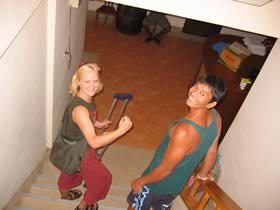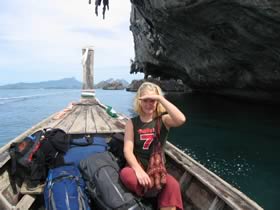 March 21th 2005
We did X-rays on friday in Phuket, the mending of the bones looks good and Soley's doctor wants Soley to part with his walker and get more aggressive therapy as the muscle atrophy is a big problem. we desperately need to find physiotherapy person to work with Soley after 22 March when Veronik leaves!!!!
From hospital we took a boat to PP Island so Soley could see for himself not only the damage and
devastation the wave inflicted on Phi Phi but also reconnect with many people whom he hasn't since
December 26th. The island is drawing together many of the people who not only need to mourn the loss but also find strength in participating in a fantastic reconstruction effort by many volunteers. Despite the apocalyptic look of most of the island, much of the infrastructure has been rebuilt, shops re-opened, bungalows, restaurants and internet functioning. The regular ferry boat service is re-established.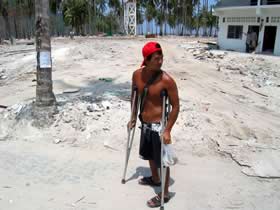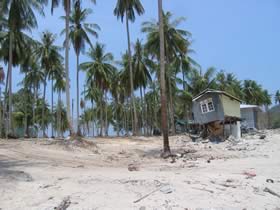 Soley and a small group of friends took a slow walk (he on crutches) around the island. A friend of Soley who walked with us lost his pregnant wife. In fact, it's not just the buildings that are missing. We realise through Soley's running commentary that everybody here has lost much of their family. I took a picture of Soley standing in a empty space, nothing but palm trees, where his living quarters used to be. A few minutes later, we stopped at the now empty reservoir where so many bodies ended up, someone said "This should be a memorial place to respect the dead and not a five star hotel". This was a difficult day for all of us here.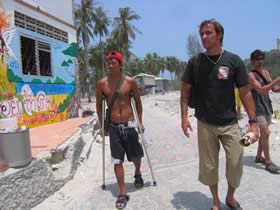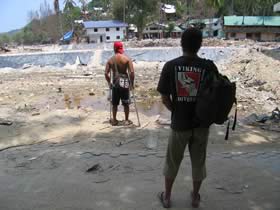 We missed the afternoon boat and are staying another night.
Shamick
An Update from Bryce
I was asked to write a little blurb about Soley by Shamick for this web page to let people know how Soley is doing. First off I would like to introduce myself and give you a little back ground on how I came to meet Soley. My name is Bryce Tang and I'm a physiotherapist from BC Canada. I actually was in the process of catching a boat from Ton Sai to Ao Nang when I meet Veronik, who is an occupational therapist, who gave me the brief history of Soley and asked if I would like to come to Puket hospital and assess Soley with her. I told her that I would be delighted as I had been looking for some meaningful way I could offer my skills to locals affected by the Tsunami, let alone another climber.
The next day we were in a cab and off to Puket to assess Soley. When I first met Soley I was shocked by the amount of muscle atrophy that had already occurred as a result of the injuries and prolonged bed rest. After talking with the doctors and the physiotherapy department, Veronik and I assessed Soley and began working with him. That evening we managed to get him out of bed and walking with a walker. After seeing Soley's determination and drive to want to recover I was ready to spend time to help him along his long road to recovery. We started by designing a progressive pool and bed exercises program to help Soley regain his range of motion (ROM), neuromuscular coordination, and strength in his hip, leg, low back and abdominals.
Initially Soley's ROM progressed slowly but overtime it continued to improve. Final the week that I was leaving we managed to get Soley to the local gym in Ao Nang where we got him on the exercise bike for the first time (this is key as it helps with all ROM and strength gains in the lower extremity while minimizing the impact on Soley still healing pelvis). This with simple manual therapy will also help to restore the extensibility of Soley's joint capsule and connective tissue which are key in regaining full ROM. Even though Soley is working hard he still will have a long road to travel as injuries of this nature typically take 9-12 months to resolve with a good therapy team and a strong willed patient. I wish Soley the best of luck on this journey and look forward to climbing with him in the years to come.
Finally I would like to say after visiting Phi Phi and seeing the destruction first hand, that only the strongest of wills could have survived the shear power of mother nature that was unleashed there and I have no doubt that with the continue support of the many people helping that Soley should make a full recovery, even if it does take the better part of a year!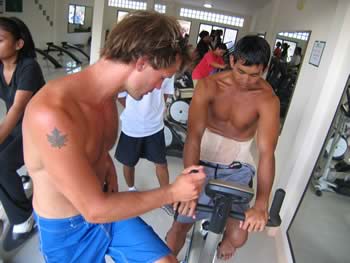 Bryce and Soley on the gym bike-
Thanks Bryce for all the time you have given and the enormous amount of help!
March
Bryce did a great thing by getting Soley on gym bike, it was scary but after 20 minutes he broke through the pain and started to do full revolutions, the hip unlocks sort of speak.......crazy stuff, so now Soley goes to the fitness center every day and works out in the pool too. It's great for his head and he is surrounded by friends old and new.
Email to Soley, March 4
We just came from PP to Phuket today. We didn't recognize PP, it was destroyed so much. We really got sad to see it. It was several bulldozer's and big truck's there, they were contracted to be on PP for 45 days. Seeing the part of PP were you lived, we realize it's a miracle you're alive. We hope your training are going well and that you feeling as good as possible during the circumstances.
All the best & say hello to Sandra & Shamick!
Lenny & Pernilla
February 21
We got back from Pucket very late last night with "Buddha" as we call him, our taxi for Soley's hospital trips. X-rays show all is well with the healing of the bones. The pelvis alignment is good and we can breath easier now. One month from now and Soley can throw away his walker/wheelchair. For now he can put 20% of his weight on his left foot.
Soley very badly wanted to see the carnage at Ko Lak, I have seen Phi Phi devastation but it is hard to imagine how immense was the sea here. We drove a full kilometer from the beach to the hill where navy ship was taken by the wave. Amazing. You can see the ship to the left of Sandra, who has done a huge amount to help Soley.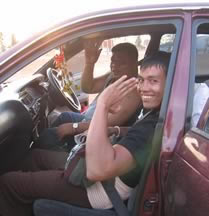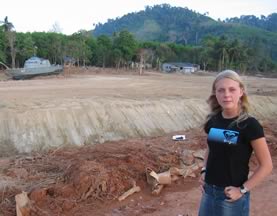 We finally managed to find budget accommodation for Soley with an excellent pool for his aqua physio, it's even by the beach and that doesn't bother Soley anymore. Soley is in good spirits, and his prospects are now good.
Soley February 17
Soley has taken to the water like a seal, spending most of the time in the pool practicing his exercises. He is making really good progress. It is great to see him getting so much from this after being bed ridden for so long. I think the whole pool therapy experience has been very empowering for him. He sends his heart felt thanks for everyone making this possible for him!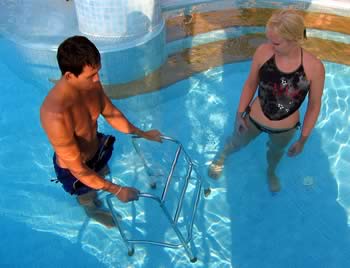 Soley getting pool Physio from Veronik for the first time
Soley February 14
Soley spent 3 hrs with Veronik and Bryce in the pool. This was a big deal for Soley, as even the thought of a shower brought back the trauma of the experience. To actually get in the water meant that he had to confront the experience of drowning. This took a great deal of courage and support. It was fantastic to see Soley make this giant step in overcoming the fear of water synonymous with tsunami survivors. For the first time we feel we are moving at the right pace and getting the support so badly needed. This was a great day for all of us!
Thank you to all who are making this possible!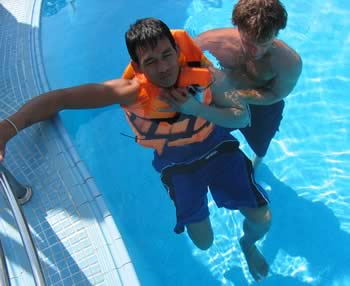 Soley in the water for the first time with physiotherapists Bryce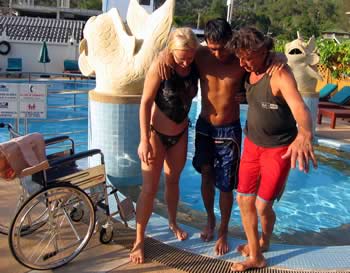 Pool Therapy- Soley, Veronik and a rare shot of Shamick
February 10th
We have decided to move Soley from the Phuket hospital to a hotel on Ao Nang with a pool and wheel chair access. This will allow Soley to be closer to his family and friends, and allow us to take advantage of the generous offer from Veronik and Bryce to begin therapy in the pool.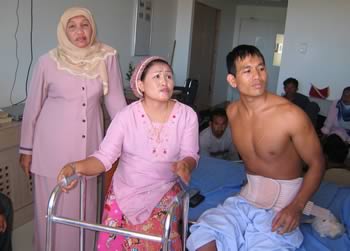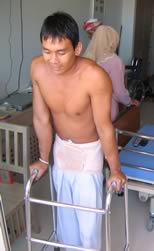 Soley with his family Feb 9th
Soley Update 6th feb:
The latest x-ray of Soley (4th Feb.) shows good healing of his pelvis bones. They are mending well
together and his pelvis alignment is stable. Most likely we have managed to avoid another surgery.
There are still a few weeks to go before we are certain that all is well.
What we need desperately now is more aggressive physiotherapy to assure that Soley will not suffer from joint and muscle atrophy. This is a very delicate balance between healing of his pelvis and intensive physiotherapy.
Two Canadian climbers on Ton Sai, Veronik (an occupational therapist) and Bryce (a physiotherapist) with experience in pelvic and hip injuries, spent time with Soley last Friday. They both are so taken by Soley's plight to walk again, that they decided to take some time off from climbing to work with Soley for the next two months. This is exactly the kind of care that he needs right now. We are working out the details of how to bring Soley and these two volunteers closer together (Phuket is 4
hrs. away from Ton Sai). Up until now, finding professional therapy for Soley has been our
biggest obstacle.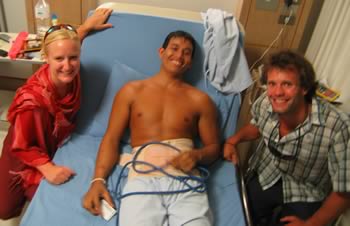 Eva Hansen (who has done a fantastic job fundraising for Soley) has just arrived to Thailand. She will spend the next week with Soley. Here is somebody with a truly great heart. It was that initial phone call from Eva that assured us that there was money to get Soley the professional medical care he so desperately needed.
Thank you Eva and thank each one of you for your crucial support. In time Soley will be able to write each one of you personally.
Once again from my personal perspective, as a rock climber living in So. Thailand post-tsunami, I can't think of a more important project than the one we have undertaken here. Make sure Soley Onbut will climb with us again!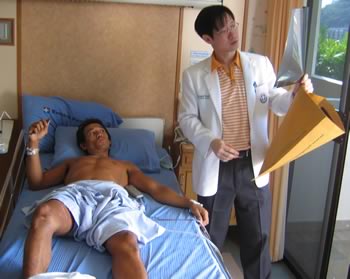 Soley in Bangkok-puket hospital before 2nd surgery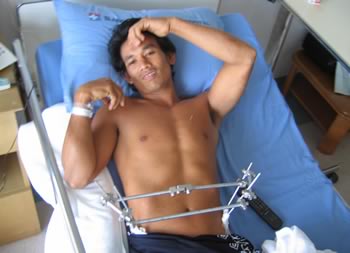 February 1
Thank you to all of you who responded so positively in helping Soley. I understand some of you didn't get my past emails due to spam filtering. Thanks to Dan from Australia, we now have this web page which will make it so much easier to stay in touch.
This page will also update you on my werabouts andschedual of the past few weeks. Thanks for all the wonderful help and kind words.
After the last hospital bill,We have 43, 000 baht left. There is still some money to
come from Sweden from donation collected by Eva Hansen as well as some individual pledges of this past week. Please help us with this very personal project.
Soley's ex-girlfriend Paula as well as Sandra are with him right now. Soley is getting all the professional attention he needs. His surgeon is monitoring his
condition daily. He is on medication that will help accelerate healing of his bones. I'm taking a few days off to catch up on some emails.
I would be very thankful for you to forward my note to those who have climbed here before (or plan to) and also to all those who care to help. I know from many
emails that there is a real frustration of how to direct funding to the genuine tsunami victims.
Shamick, Krabi, Thailand
Below are pictuers of Soley before he was rehospitalised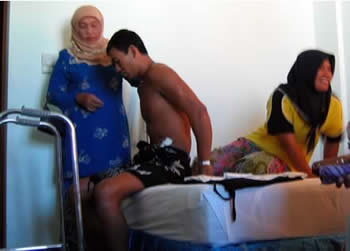 Soley still with his fantastic smile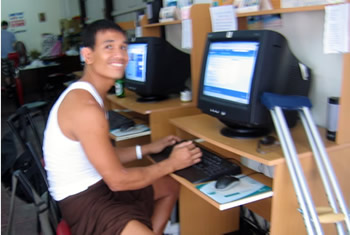 January 30
We must keep Soley in the hospital as long as we can afford the bills, this is his best chance so he will walk again. We have made some mistakes the financial pressure and fast initial
recovery as well as Soley desire to be back in Krabi led to the situation we are in now.
His X-ray as of last night shows good alignment of his pelvis and we are monitoring the risk of infection.
We have found a hotel with a handicap unit, kitchen and a swimming pool for his aqua-therapy. This is will be for when we can't afford the hospital anymore. The cost of hotel with 65% off on monthly basis is 30 000baht
This does not include expenses such as food, email, transpotation to hospital, Xrays etc
I desperatly need someone to help me with fundraising.
Shamick
January 27
I had to seak 3 opinions......... and consensus of pelvic specialists in Bristol England and Holland
,USA.... is not to operate, above all Soley has taken that decision as well,means strong medical supervision of his healing at Bangkok-Puket H. his daily cost runs at 4ooo/5000 baht
we need a well organized finnacial foundraising, I stiil dont know how much we have raised so far as many promisses havent reached the bank as yet.
Long term care will be needed as well, I am looking into all the options
I havent climb almost at all........ this has been a full time job
January 24
Soley xray at Bangkok-Pucket hospital reveled that the metal plate of his symphisis pubis has broken, the consensys of the medical team is not to operate, but to hospitalize Soley in Pucket till the healing of Pelvis is complete, it is the safer aproach as we feel 3rd operation is to risky
as time goes I will try to Email all our friends,please respond even with a short messege so I
know that You are getting the news, WE had a hard time with internet conections for past few weeks
many thanks
Shamick
January 21
Today we took Soley for removal of his stiches. The x-eray shows thet Soley broke the metal plate holding his pelvis togehter. The doctor gives us two choices...operate and replace broken metal piece or stay in bed still for at least one month, no wheelchair, no moving and hope for the best. Tonight we stay at the hospital and make a desision tomorrow morning.
life is hell and we not out of the woods yet
I am seeking profesional opinion from specialist in Holland and England
Shamick
Dear Friends-
Most of you need my apology since I write so rarely. These are very crazy times for us here in Southern Thailand. I'd like to thank everybody who responded to my initial email about my friend Soley Onbut who was hurt on Phi Phi Island Dec 26th when the first tsunami wave hit. For those of you who are getting this email for the first time I will repeat a condensed version of the sequence of the events of the past 2 weeks.
Our climbing community here in Southern Thailand (Railey, Ton Sai Beach, and Phi Phi Islands) was spared the main blow of the tsunami. But many of us have lost friends from within the diving community on Phi Phi. Many local Thais on the island were lost as well. Luckily, none of the climbers as far as we know have died. Many material possessions have been lost, many climbing shops were hit and destroyed, and the businesses that did survive are obviously hurting financially because of the lack of tourism. But material possessions will be replaced and the tourists will return by the next season. What I am concerned about is focusing on one particular individual who not only lost his climbing business, but also lost the ability to walk. The initial rumors were that he was paralyzed with a broken back, and like many was lost on Phi Phi. Today as time goes on, Soley has a big chance that things will turn out well for him.
Soley Onbut has lived on Phi Phi Island for the past 5 years. He has been a climbing instructor for the past 13 years. His climbing shop (Carlitos Rockshop) had been in operation for 1 year when the tsunami hit.
Soley will tell you soon his story of survival. I will just briefly outline what happened to him. He
was asleep in his bungalow and awoke to water rushing in. The cement wall gave way and pinned him to the ground. Like so many, Soley was drowning with a broken pelvis and broken hip bone and swam to the surface to safety. He clung on to a palm tree for hours resisting the wall of water that was dragging people out to sea. Somebody eventually threw him a rope and he spent the next 24 hrs in the hills on Phi Phi before being lifted off by a chopper to a hospital in Krabi. He spent 2 days awaiting surgery. The waiting lists and priority was given to tourists and more serious cases. He was finally taken to Hat Yai hospital on the back of a pick-up truck arranged by his panicked family. By my calculation he wasn't operated on until the 5th day! The operation was a success- Soley was very lucky to be looking so good after such a serious and complicated surgery. For
some incomprehensible reason (via another pick-up truck) he ended up in the Krabi hospital. All of this was done while he had a metal contraption resembling a TV antennae attached to his hips.
By the next morning, Soley was moved by us in an ambulance to Bangkok- Phuket hospital, a modern professional facility. Here Soley was operated on again. His family tried to stop him from going through with it since it was expensive and complicated and they feared for the worst. It was a rough choice for all of us but, being given all the options by the surgeon (Dr. Sethapong Chaimanee), Soley made his own decision.
Two days later, he is taking his first steps. His prognosis is excellent. There is no spinal injury and
Soley is in excellent spirits. As for his immediate friends, we are raising money for his hospital bills and recovery. Soley will climb again. Let's help him to accomplish this.
The next 3 months are critical for his full recovery.
Arrangements are being made for his stay in Krabi, his physiotherapy, and medical follow-up by Dr. Somkiat from a local private clinic. Obviuosly, Soley still has a very long battle in front of him.
Thank you
For the news on Soley you can call me on my Thai cell:
(66) 046258138
Shamick Byszewski