King Climbers Railey Beach Climbing Centre

---
One of the first climbing schools in Railey Beach Thailand, King Climbers enjoy a long standing reputation for safety and high teaching standards. We are located on Railey Beach in Southern Thailand close to Krabi. We offer a range of climbing courses for the absolute beginner to advanced climbing and rescue techniques. All our guides have a minimum of five years climbing experience and are accredited by the ACGA. Guides are trained and certified in first aid and emergency rescue.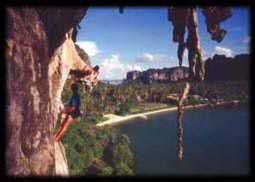 King on the third pitch of massage secrets
6b, Railey beach in the background.
Courses
We have courses ranging from half a day to three days. Our courses are aimed at teaching beginers the skill they will need to go out and climb safely on their own. We have introductory half days, one day, and comprehensive three day coures. There are more details here. You can also book online here.
Equipment
All our equipment is imported from Europe and America. It is continually maintained and upgraded to ensure it is of the highest quality. Equipment can be rented or bought at the shop.
The Guide Book


Our guide book has been republished yet again this year in it's 5th edition. It covers the entire Krabi/ Railay area including Phi Phi Leh and Phi Phi Don.. With over 700 routes, route maps, color pictures and top tips it should be regarded as indispensable. Go to the guide book section for more details.
Location
We are located in the middle of walking street on Railay Sunset beach, just behind Flame Tree resteraunt, a minute walk from either side of the peninsular.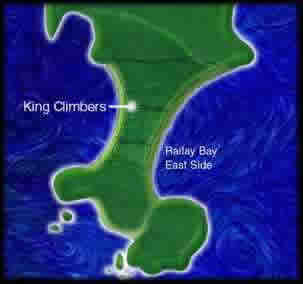 King Climbers is registered with the T.A.T. (Tourist Authority of Thailand) License no: 34/0329. If you need any further information about climbing around Thailand, please e-mail us with your questions at info@railay.com